: Bismillah ..... Assalammualaikum :
Semalam ke Kompleks Mutiara, Jalan Ipoh.
Permulaan untuk tahun 2011 ni
anjuran our department (UPA) jugak..hehe..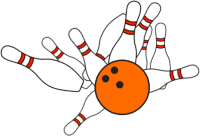 Pertandingan bermula 5.30 petang...
me, k.mimi & k.asiah gi awal ke sana utk menguruskan hamper & pendaftaran.
ada 32 org staff yg mengambil bhg. , 8 team , & 4 org bagi stp team..
yang uniknya setiap team kena memasukkan
perkataan pada nama team masing²..
our team name -->
En. Fairos, En. Arifin, Ping and Me..
huhu~ name pun main suke²
so tak de la nk tension gile² men utk jadi champion.
dari 8 team..our team hanya berada di tempat yang kelima..
okela tuh..janji enjoy kn?
Congrate kpd team yang menang, and also congrate kpd
Pn. Azian - women best player & Abg Suhaime - men best player... Hebat~!
serta memberi support kpd me..hahaha
Cik Qhiee
memang sporting la..
Tak rugi datangkan? sambil support member, sambil 'cuci mata' ,
sambil men bowling jgk, done-done tuh dpt lucky number ye...hehehe Congrate to u.

Acara settle dalam pukul 9++,
Aisehh..name me kurang bertuah la untuk 10 cabutan lucky draw.
Takpelah..tak de rezeki kot.
Thanks to K. Mimi menghantar kami balik semalam~
Alhamdullillah, balik dgn kelegaan lif Menara Orkid dan air paip sudah kembali ok.
Kalau tidak, manelah nak menumpang tidur semalam.
(^_^)